Tired of rolling? Cant hand roll? If you're looking for pre-rolled cones you've to the right place. Our variety sets aren't for the faint hearted though. Why you may ask? Featuring a selection of different sized pre rolled cones, enjoy smoking non stop with this perfect combination pack full of your favorite sizes. Brought to you by your favorite brand Raw, and other popular brands, get ready to enjoy the benefits and convenience with the most popular and must have Pre-Rolled Cones. With each variety pack you purchase, enjoy smoking with ease. Sounds good? We couldn't agree more!
At Rolling Ace, we bring you nothing but the best from your most popular and trusted brands. You name it, we'll have it! If you're looking for high-quality papers and pre-rolled cones, then you've defiantly come to the right place! Enjoy your favorite products delivered right to your doorstep with our easy check-out system. For those looking for the ultimate bundle and to save, check out our bundle's pages to see whether you're favorite Raw products can be found there at a special bundled discount price!
With high-quality pre-rolled cones from Raw and other popular brands, we're sure you'll have nothing but a top-class smoking experience! Get your herbs out, set aside your accessories and tips, because Rolling Ace is here to provide you with all your smoking needs! If you can't find what you're looking for give us a buzz and we'll happily help you out. With such a wide selection of your everyday smoking accessories, we're sure we'll be able to get you exactly what you need. Don't forget to sign up for our newsletter for exclusive discounts, flash sales, and more!
With our selection of variety packs, you'll never have to struggle again! Simply fill, pack, light it up & enjoy!
RAW 20 Stage RAWket pack includes: 6 x 1¼ Cones (83mm) 4 x Kingsize Cones (110mm) 2 x 98 Special Cones (98mm) 2 x Lean Cones (110mm) 2 x Peacemaker Cones (140mm) 2 x Emperador Cones (180mm) 2 x Supernatural Cones (280mm) RAW paper is made from natural plants with zero burn additives.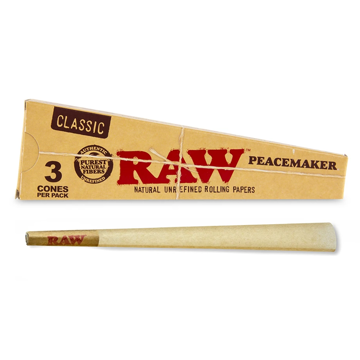 100% GMO & CHLORINE FREE • NATURAL UNBLEACHED TIP • VEGAN-FRIENDLY PRODUCT/GLUTEN FREE • BURN NATURALLY & SMOOTH • CRISS-CROSS WATERMARK TO HELP PREVENT RUNS • GENUINE UNREFINED PAPER MADE IN SPAIN • 3 CONES/PACK, 16 PACKS/BOX