Can't stand another pack of your freshly bought papers bending just from walking with it in your pocket? With the Rolling Supreme Metal King Size Rolling Paper Case you don't have to! The RAW Paper case serves a single, RAWsome purpose - to keep your goods protected once and for all! Built to last with tough metal and sturdy hinges, and printed with the RAW King Size Rolling Papers design, this metal tin case was made for the Kings based on its quality and King size! The Rolling Supreme Metal King Size Rolling Paper Case has a hinged lid that snaps securely in place when you put your papers inside. It's constructed from metal to keep your RAW's safe from the other objects in your pocket, backpack, car – wherever! This is a must-have for serious RAWlers looking for the best products from their favorite brand.
At Rolling Ace, we bring you nothing but the best from your most popular and trusted brands. You name it, we'll have it! If you're looking for high-quality containers, grinders or papers, then you've defiantly come to the right place! Enjoy your favorite products delivered right to your doorstep with our easy check-out system. For those looking for the ultimate bundle and to save, check out our bundle's pages to see whether your favorite products can be found there at a special bundled discount price!
Get all your herb and paper case needs at Rolling Ace! With high-quality cases from the top brand RAW, the Rolling Supreme Metal King Size Rolling Paper Case is something we're sure you'll have nothing but a top-class smoking experience with now that you have fine, fresh papers everywhere you go. Get your herbs out, set aside your accessories and tips, because Rolling Ace is here to provide you with all your smoking needs! If you can't find what you're looking for give us a buzz and we'll happily help you out. With such a wide selection of your everyday smoking accessories, we're sure we'll be able to get you exactly what you need.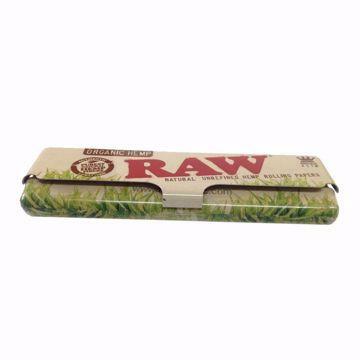 Case for King Size Rolling Papers